when i first saw this Herve Leger dress, i had, and still have, pretty mixed feelings about it. the shape and cut is gorgeous and very flattering (thanks to the model as well), and i love the rugged look as well as the 'slice' at the shoulders/upper arms. but there's just something that doesn't seem to sit well with me. i reckon it's the material - denim.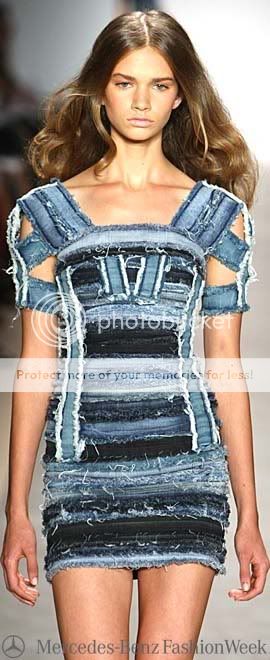 as everyone knows, denim can either be a hit or miss, especially when it's made into other forms of apparel. so now, who can forget the horrendous matching outfits of Britney Spears and Justin Timberlake at the 2001 American Music Awards?!
image via
galleryworld
what were they thinking?! i know love can be blind but.. surely they could have gotten better stylists? ah wells, i sure hope they've got better stylists now.

side note: still wish they'd get back together one day. they're so cute as a couple albeit the awful matching outfits.